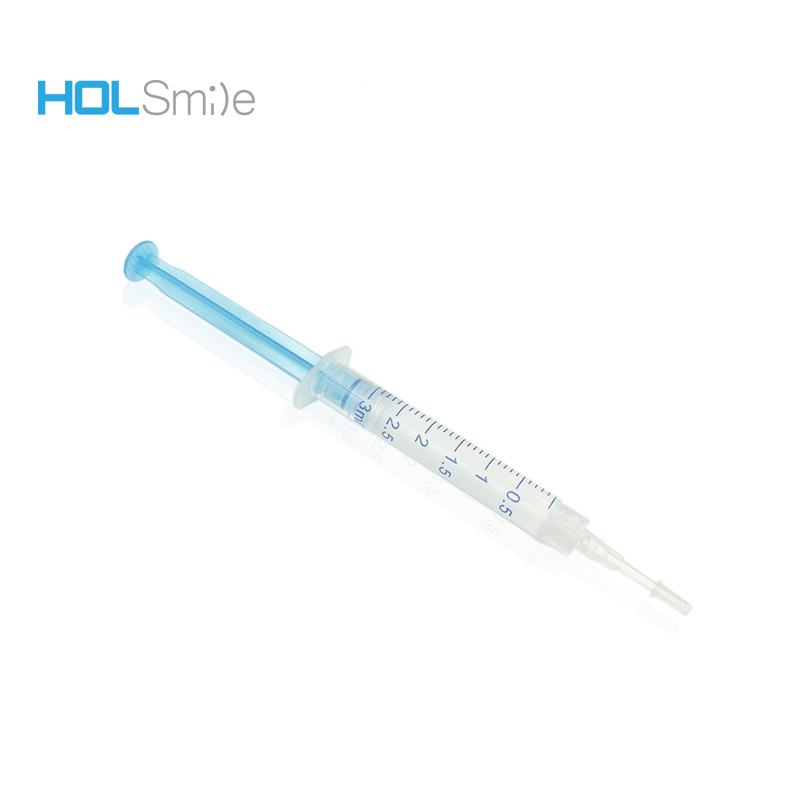 Teeth Whitening Gel Syringe
Min.Order Quantity: 100 Piece/Pieces
Supply Ability: 100,000 Piece/Pieces per Month
Payment Terms: T/T,Western Union, PayPal

Quick Details

Model Number: WG
Material of syringe: Medicine grade PP
Service: OEM
Concentration: CP,HP or Non Peroxide
Volume: 3ml,5ml and 10ml
Certificate: FDA, CE, MSDS
Flavor: Mint
Shelf life: 24months
• Professional manufacturer of teeth whitening gel,guarantee the gel is made fresh daily.
• Enhanced stabilization of formula for increased whitening performance in half the time.
• We can supply CP and HP with different concentrations,as well as non peroxide are available.
• There are 3ML 5ML and 10ML syringe for your choices.
• Efficient,economical,convenient and safe.
• FDA, CE, MSDS certification.
Holsmile guarantees the best competitive price and high quality teeth whitening products.
Let's work together to offer you a simpler, easier, and more affordable way to purchase your teeth whitening products.
Keep out of the reach of children. Not recommended for use by children under 12 years of age. Do not use if you are pregnant or nursing. If more than the amount used for whitening is accidentally swallowed,get medical help or call Poison Control Center right away. Avoid contact with eyes. If product contacts with eyes,rinse thoroughly with plenty of water. Avoid getting whitening gel on clothes and other fabrics. If irritation of the gums or mouth occurs, discontinue use. Teeth sensitivity from the use of whitening products is usually temporary and is not harmful. If irritation or sensitivity continues, consult a dentist. Always get professional advise from your dentist.
How Does Teeth Whitening Work?
Teeth whitening is a simple process. Whitening products contain one of two tooth bleaches (hydrogen peroxide or carbamide peroxide). These bleaches break stains into smaller pieces, which makes the color less concentrated and your teeth brighter.
Does Whitening Work on All Teeth?
No, which is why it's important to talk to your dentist before deciding to whiten your teeth, as whiteners may not correct all types of discoloration. For example, yellow teeth will probably bleach well, brown teeth may not respond as well and teeth with gray tones may not bleach at all. Whitening will not work on caps, veneers, crowns or fillings. It also won't be effective if your tooth discoloration is caused by medications or a tooth injury.